Open Call for Training Course MANAS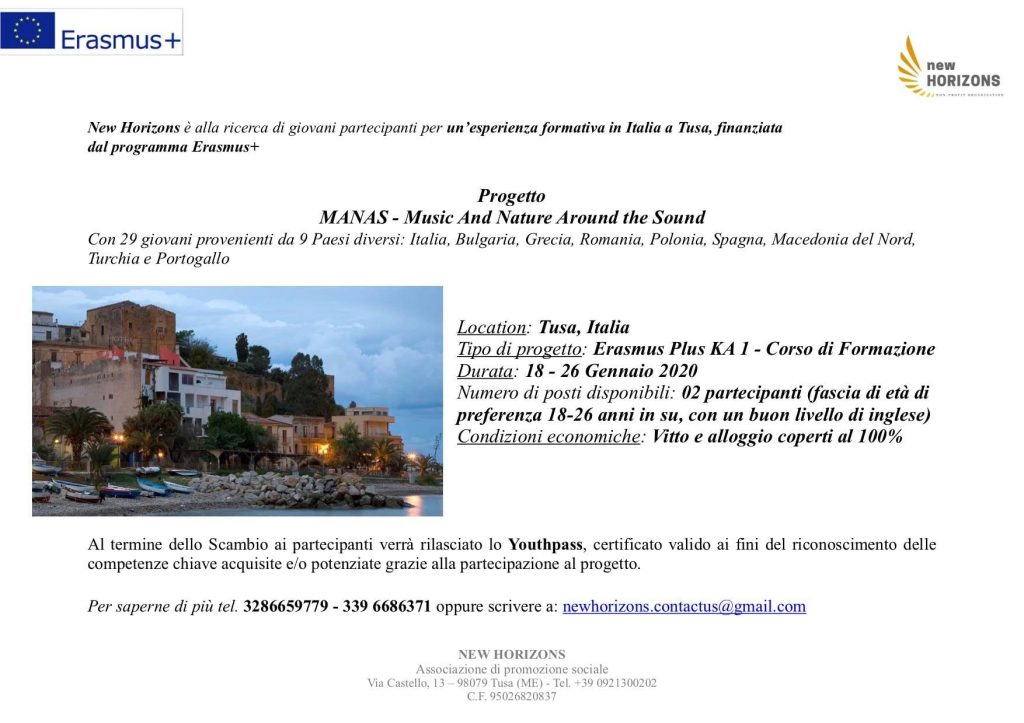 Erasmus+ Training Course
18-26 January 2020 I Tusa, Italy
Open call for 3 participants from N.Macedonia aged 18+ years for the training course "MANAS" to be held in January 2020, in Tuza, Italy.
According to statistics, 6% of the European population over 16 years feel lonely. Among the factors causing this feeling are distinguished unemployment, economic problems and lack of confidence of young people in the possibility of achieving their goals. The consequences of this situation can be found in the workplace, in communication with young people and with partner organizations. These considerations have brought 9 partners from 9 different countries to the design of a project that supports the personal growth of the individual in an intercultural context, acquiring innovative methods and tools to include music in non formal education, the rediscovery of authentic bonds with oneself, with others and with the world; creating free expression in the form of music and movement, to the sharing of emotions, feelings and fears within one group. These are the main values that all involved partner organizations have in common with "MANAS" project.
The international project "MANAS" aims at empowering youth workers from 8 different countries in their personal growth, through artistic expression such as spontaneous singing, free movement and group meditations, giving them innovative tools to share, develop and reproduce in their realities with their target groups. The project promote:
The development of young people's awareness and the importance of musical expression and meditation as an instrument of well-being and interpersonal connection;
The increase of trust in oneself, in others and in the community;
The sharing, creation and dissemination of methods and activities of personal growth by the youth workers towards their target groups and the communities they belong to;
The increase of national and international cooperation between organizations and institutions with the use of innovative communication platforms for work groups.
Apply on the following link: https://forms.gle/QePKCT3Qw6Yka24Y6
Deadline for submitting applications: 1st November 2019