Open Call for long term Training Course "Power of Communication"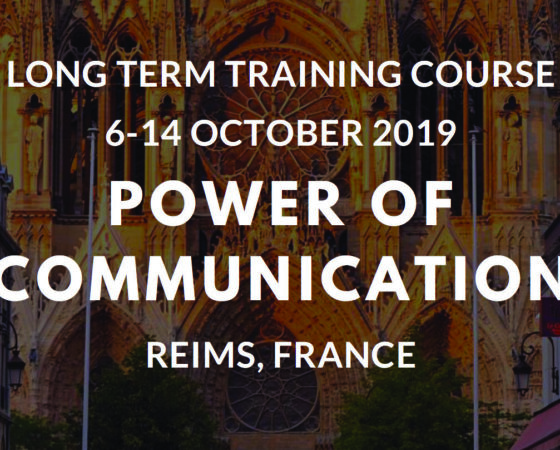 Erasmus+ Training Course
6-14 October 2019 I Reims, France
Project
With this LTTC «The Power of Communication», we'd like to tackle the competence of youth workers and trainers to build and to facilitate the meaningful communication process with different stakeholders involved in educational process which influence learning outcomes as a result and can contribute to sustainable development and the quality of the educational activities they organize.
Objectives
To discuss and come to common understanding of what efficient communication is and its role in educational process
To discover how communication is related to human rights and human dignity to develop skills in the competence area "communicating meaningfully with others"
To develop skills in intercultural communication in diverse
Environments and with learners from different backgrounds
To reflect on the specifics in communication process in different dimensions such as educator – young people, educator-educator, educator-institution (organization) and come up with strategies for fostering efficient communication process
To reflect on the effects of non-verbal communication, and how it's linked with the personal attitudes to become conscious about personal body language when working in multicultural environment.
Activity 1: (6-14 October 2019)
A generic training course which will be focused on building competences of educators in the competence area "communicating meaningfully with others" (according to ETS) on individual level (dimension educator-learner, educator – educator).
Online Course
Between 2 residential training courses, we will offer participants an online course which will support their learning process between 2 mobilities as well as prepare them for the local practice.
Local Practice
Between 2 trainings participants will need to prepare and run a workshop in their local
realities, where they will practice gained competences.
Activity 2: (2-10 February 2020)
A training course which will be focused on building competences of educators in the competence area "communicating meaningfully with others" on group/ team
level. ( dimension: educator -team, educatororganisation).
NOTE: Participants are expected to come both activities (october & february)
The project is open for youth workers, trainers, coaches and educators who actively work at local / regional / national or international levels, who meet the following criteria:
Experience in youth work and active participation in the sending organization activities and work
Motivation and commitment to participate throughout the LTTC
Shared expectations and clearly defined learning needs
Openness for and appreciation of non-formal learning process
The willingness to improve communication skills relevant for their work as well as gain experience / exchange tools / with youth workers from other countries / cultures.
Commitment to reflect on personal learning process and ability to critically assess learning outcomes
High commitment to follow up activities to disseminate the project results.
Each partner should select 3 participants (age 18+) from following groups:
1 participant from partner organization, working actively as an educator on local/national/international level and willing to improve the competence area of communication
1 participant from local environment, working actively in the field of education but not familiar with international dimension of it
1 participant preferably working in formal educational system, in order to widen the impact of the project and encourage cross-sectorial cooperation.
Travel logistics and reimbursement in the information pack