"DigiWomen" 2nd Transnational Project Meeting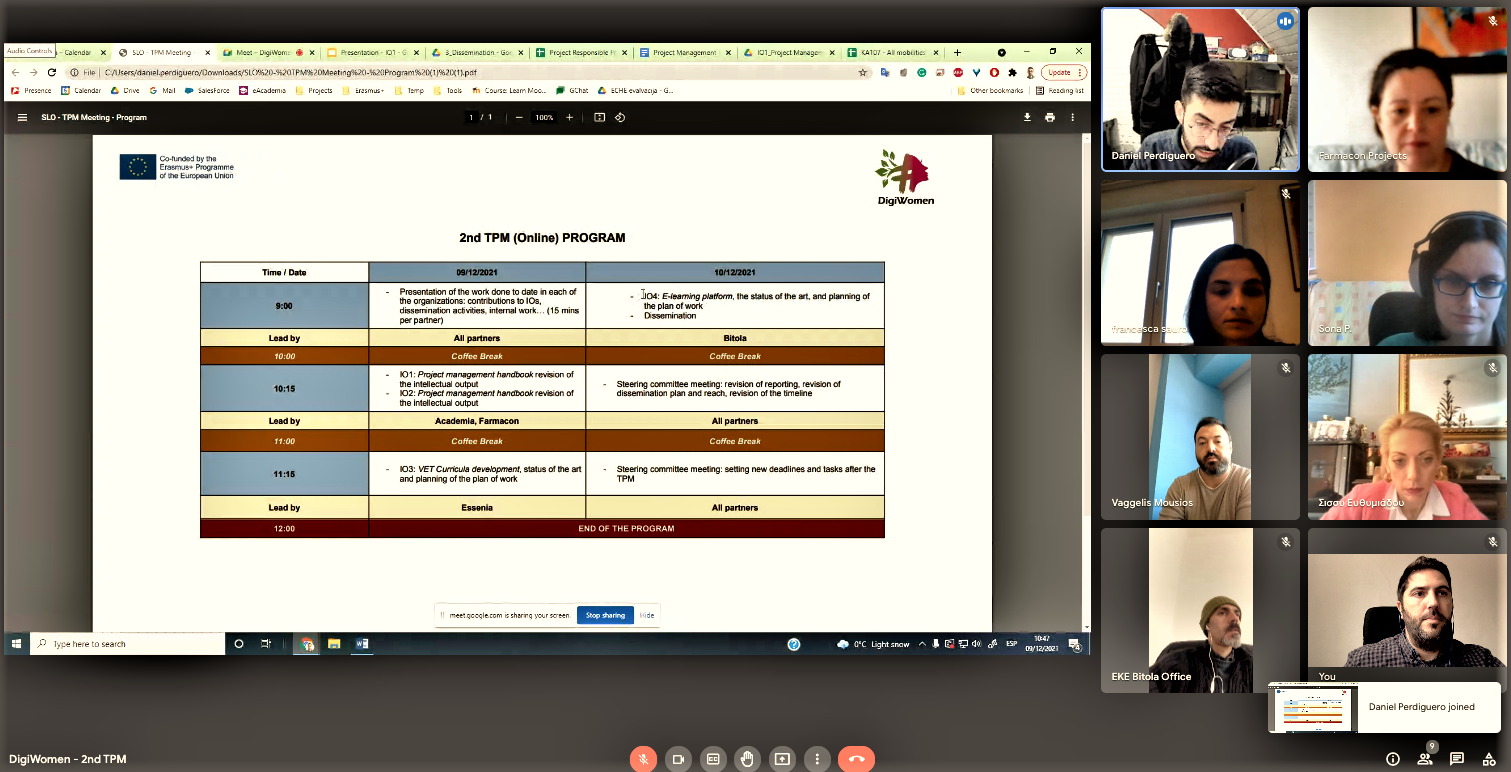 Erasmus+ KA2, Transnational Project Meeting
09-10.12.2021
Within the Erasmus+ KA2 project within DigiWomen project we held the second TPM meeting.
Transnational project meetings promote people-to-people connections, complement complementary ideas and approaches to education, foster collaboration between project partner organizations and people involved, promote innovation, advance planning, tracking progress and resolving all outstanding management issues with the project.
Transnational Project Meetings promote interconnectivity between people, they complement ideas and approaches in education, foster collaboration among the project partner organizarions and the involved people, promote innovation, opportunity to plan ahead, monitor the progress and resolve any pending management issues.
Following up the serie of meetings and work done in the year behind us, it is the right time of the project cycle in which partner organizations we come together to share, provide feedback, improve and set directions for the coming period.
Even though planned as in-person meeting to happen in Maribor in Slovenia, due the Covid-19 recent situation developments in all countries involved, and travel restrictions and logistics, we had to do it online.
Here is a brief overview of the content covered during the two days TPM meeting:
We have done round presentations of the work done so far in each of the organizations: contributions to IO's, dissemination activities, internal work, etc.
Revision of the work done for the intellectual output #1
Revision of the work done for the intellectual output #2
Presentation and review the progress made in the intellectual output IO3 such as: VET curricula development, methodology, processes and the steps ahead and coordination on setting up the plan . In this part we also took time to discuss the technicalities for design and implementation of the modules of classes.