Quality Label Approved: EKE got approved the European Solidarity Corps accreditation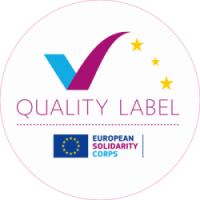 We are happy to announce that the National Agency for European Educational Programs and Mobility of N.Macedonia has granted European Cultural Center Bitola with Quality Label for the program European Solidarity Corps.
If you are between 18 and 30 and looking for a volunteer opportunity to help the wider community in Europe and beyond, you could do this with funding and support from the European Solidarity Corps, which helps young people take part in projects that benefit communities, either abroad or in their own country. For more information about the program in Macedonian language please visit our National Agency ESC portal.
These volunteering ESC projects offer an inspiring and empowering experience, as well as the chance to bring change while developing your skills and competences. European Cultural Center Bitola as accredited organization is open to any young people, or youth related institutions for any questions, hesitations or support may have if interested of submitting an ESC application.