Open Call for Youth Exchange "Be The Change – Make Your Life Sustainable"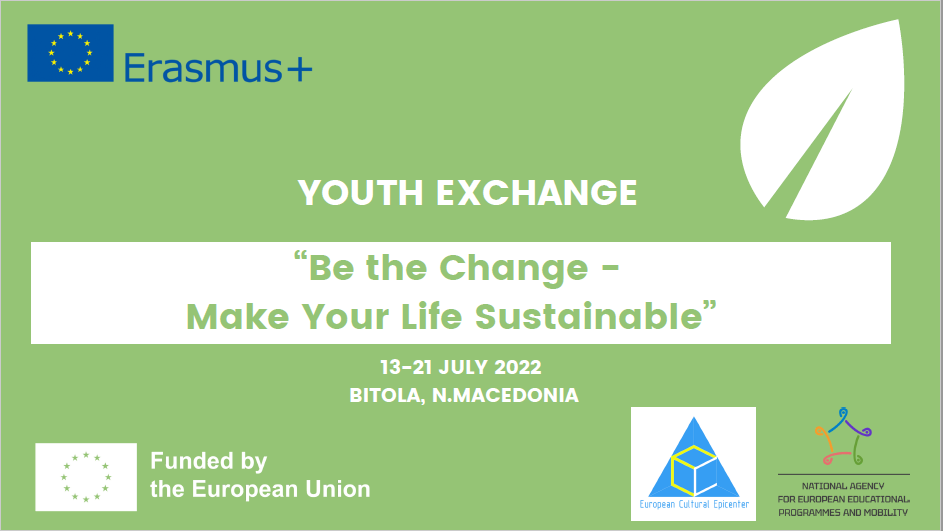 Erasmus+ Youth Exchange
13-21 July 2022 I Bitola, Macedonia
The exploitation of natural resources becomes more and more apparent every day and has a greater impact on our lives. We believe that with this youth exchange, the implemented activities on sustainable development will encourage young people to join and contribute to the dialogues and decisions on the sustainable future of European societies.
Objectives
The non-formal methods employed in the exchange mostly will be presented by the participants, using visual presentations, group work, group discussions, and brainstorming, but other than that, there will be a presentation of the Erasmus+ program.
This program includes different program activities aimed at promoting sustainability in :
Architecture
Science and technology
Transport
Fashion
Food and Health
But there will be also some time for fun and sports activates like:
Sports activities
Rock climbing
Bicycle tour
Hiking around Bitola
Swimming, and tour in Ohrid
Yoga in the city park
Participants, Profile & Criteria for Section
The Youth Exchange is open for participants, team leaders, and support staff
Young people aged 18-25 years
Team leaders 18+ years
Able to communicate in English
Motivated to collaborate and participate in all the project activities.
Residing in N.Macedonia, Bulgaria, Greece, or Italy.
–Participant – active role in all activities and as a member of the country group. This may include creating or running an activity based on the topics of the project, run energizers, etc. in line with their capabilities and learning needs.
-Team leader – selected from the sending organization, coordinates the country participants group and takes responsibilities to support the project team and program before, during, and after the youth exchange. This includes: attending the advance planning visit and online preparatory meetings, run thematic workshops, supporting the project dissemination, etc.
-Support Staff (volunteer position) – these roles are designated to the organization where the youth exchange happens. In our case, the roles will be offered to volunteers from Bitola. They will work with the Project Coordinator and provide support in order to better implement the Program.
Reimbursement
Accommodation, food, project materials, and health insurance will be covered by the project as well.
The travel costs – a lump (fix) sum depends on the distance from your city to the venue of the activity (please use the official Erasmus+ distance calculator ).
For travel distances between 100 and 499 KM: 180 EUR per participant
For travel distances between 500 and 1999 KM: 275 EUR per participant
Travel reimbursement will be done during/after the Youth Exchange based on the original travel tickets, boarding passes, and invoices. Travel insurance will be covered by the participants.
COVID 19
The latest covid-19 measures will be confirmed before the arrival of the participants, according to the protocols given by our ministry of health.
Application form
Fill out and send this application form.
Please submit it by 01 June 2022 at the latest.
Some backgroun information about the project: